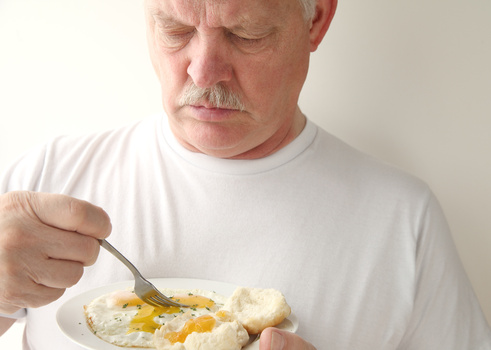 Breakfast is the most important meal of the day, and seniors can really make it count by including a healthy variety of foods. Eating foods that are high in vitamins and nutrients not only reduces the risk of age-related conditions such as arthritis and hypertension, but it also provides seniors with the fuel needed to carry out daily activities. The foods listed below are as simple to prepare as they are delicious and nutritious. 
Oatmeal
Oatmeal not only promotes a healthy heart, but it's also an excellent source of fiber. Fiber aids in digestion, promotes bowel regularity, and may even reduce the need for laxatives in seniors. Constipation in seniors can lead to serious conditions, so promote regularity with a bowl of oatmeal for breakfast.
Eating a nutritious breakfast can help seniors live longer and healthier lives. Seniors who want to remain healthy as they age can benefit in a variety of ways when they receive professional in-home care. Home Care Assistance is here to help your loved one accomplish daily tasks, prevent illness, and focus on living a healthier and more fulfilling life.
Blueberries
Studies have shown blueberries contain nutrients that boost memory and may even slow the progression of age-related memory loss. Make sure your senior loved one is getting a healthy serving of blueberries in his or her diet to promote brain health and mental acuity.
Eggs
Eggs contain vitamin D, which is responsible for helping the body absorb calcium. As we age, we lose calcium in our bodies, which can lead to conditions like osteoporosis. Seniors can benefit from moderate egg consumption to keep their bones strong and healthy.
Older adults may require assistance with preparing a nutritious breakfast each morning. If your aging loved one needs occasional help with bathing, grooming, cooking, or other basic household tasks, or if you need time to attend to important personal matters, reach out to Home Care Assistance, a leading provider of live-in and respite care. Philadelphia seniors can maintain their independence while living at home with the help of our reliable respite caregivers.
Avocado
Don't forget to add a few slices of avocado to your loved one's breakfast to boost his or her heart health. Avocados have been linked to healthy cardiovascular function. Including avocados in a senior's diet may also decrease the risk of stroke, diabetes, and heart disease.
Spinach
Spinach contains several nutrients associated with eye health and can prevent age-related blindness and glaucoma in seniors. Serve up a spinach omelet to ensure your loved one gets these nutritious benefits as part of his or her breakfast.
Family caregivers might find it difficult to prepare a healthy breakfast for their loved ones each morning while also managing their personal responsibilities. When considering elder care, Philadelphia, PA, families should make sure their senior loved ones have the resources they need to maintain their independence and remain healthy. Trusted in-home care professionals can assist seniors with daily tasks like cooking, bathing, and exercise, and they can also encourage them to focus on healthier lifestyle habits. Trust your loved one's care to the professionals at Home Care Assistance. To create a customized home care plan for your loved one, call (215) 645-4663 today.