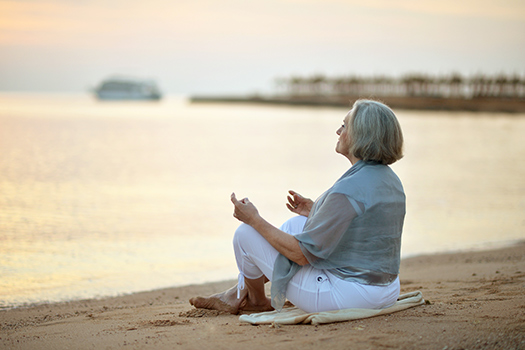 High blood pressure can lead to some major health problems, such as heart attack, stroke, and kidney failure. If your loved one has hypertension, his or her doctor might prescribe one or two different medications to help keep it in check. However, many seniors find a few lifestyle changes and holistic methods helpful in lowering their blood pressure. Here's a look at 5 such methods.
1. Make Dietary Changes
Diet plays a major role in overall health, and it can even affect blood pressure. Encourage your loved one to cut back on processed foods and increase his or her intake of fresh fruits and vegetables. Your loved one should also cut back on red meat, eat more fish, nuts, and whole grains, watch his or her salt and sugar intake, and eat more foods rich in potassium, magnesium, and calcium.
2. Take Up Yoga or Tai Chi
Countless studies have shown stress and high blood pressure go hand in hand, so taking up an activity like yoga or tai chi to reduce stress levels can be beneficial to the body. Both practices have been shown to lower blood pressure, reduce the amount of stress hormones in the body, and make people feel more relaxed overall. Just be sure your loved one checks with the doctor before beginning either practice to ensure he or she can handle its physical aspects.
Philadelphia home care experts are available to provide high-quality care to seniors on an as-needed basis. From assistance with mobility and exercise to providing transportation to the doctor's office and social events, there are a variety of ways professional caregivers can help your aging loved one continue to live independently.
3. Add Some Herbs to the Diet
Some people believe in the power of herbs to lower blood pressure, and some scientific studies have shown promising results. Your loved one should talk to the doctor about how herbal supplements might interfere with other medications he or she takes. Many of the herbs can be taken in supplement form, while others can be added to food. Cinnamon is a great option, especially if your loved one has diabetes. Garlic has been shown to relax the blood vessels, so incorporate it into your loved one's meals if he or she doesn't mind the scent. Ginger relaxes the muscles around the blood vessels and can increase circulation. Some other herbs your loved one may want to try include basil, cardamom, hawthorn, celery seed, and French lavender.
4. Go for a Walk
Many people underestimate the power of a 30-minute daily walk. It gets the blood pumping and boosts overall cardiovascular health. Walking outdoors in a natural setting can even help reduce stress. The more your loved one walks, the more he or she can increase speed and distance.
A Philadelphia home caregiver can help your elderly loved one manage his or her health in a variety of ways. If your loved one needs encouragement to exercise more often, eat healthier foods, or socialize on a regular basis, an in-home caregiver can address these and many other health-related concerns.
5. Switch to Decaf or Tea
Caffeine tightens the blood vessels, which causes the heart to work harder and raises blood pressure. Encourage your loved one to switch to decaf if he or she drinks coffee in the morning, or consider trying tea, which typically has half the caffeine as the average cup of coffee. If your loved one does want to try tea, consider one that contains hibiscus. Studies have shown regular consumption of hibiscus tea works as well as taking blood pressure medication in some people.
Studies have shown that lowering blood pressure can reduce the risk for Alzheimer's and other types of cognitive diseases. If your elderly loved one is living with Alzheimer's and needs help managing the symptoms, turn to Home Care Assistance, a leading provider of Alzheimer's care. Philadelphia seniors can rely on our revolutionary Cognitive Therapeutics Method (CTM), an activities-based program that helps slow cognitive decline and delay the onset of Alzheimer's disease. CTM also encourages seniors to engage with others in an enjoyable way and helps them build new routines to look forward to. To learn about our holistic approach to home care, call one of our friendly Care Managers at (215) 645-4663 today.