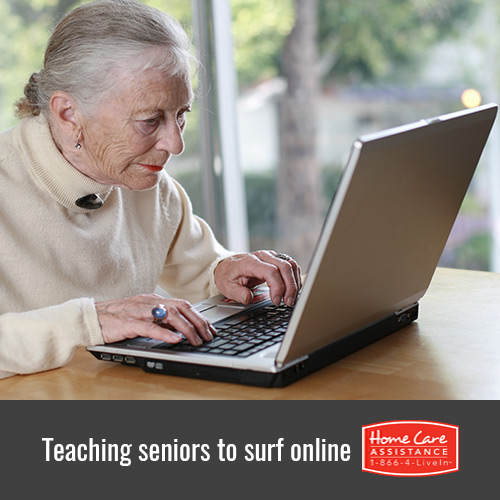 According to Pew Research Center, approximately 65 percent of Americans over age 65 use the Internet, and 70 percent of those seniors use it on a daily basis. As modern technology becomes more prevalent in our society, many seniors are trying to adapt and keep up with the times. If your loved one needs help learning how to use the Internet, Philadelphia home care experts recommend taking the following steps.
Start with the Right Hardware
Without the proper hardware, teaching your loved one to use the Internet could be a frustrating experience. Purchase a mouse that fits comfortably in your loved one's hand, an ergonomic keyboard, and a bright display that is easy on his or her eyes. A purpose-built netbook designed specifically to surf the Internet might simplify this process as well.
Create User Accounts Together
One fun way to ease your loved one into technology is to help him or her create social media and email accounts, which includes steps like creating fun user IDs, setting up passwords, and even uploading his or her favorite pictures. After the accounts have been created, you can then spark your loved one's interest by finding old friends or sending friend requests to family members.
Print Out Instructions
The vast majority of seniors will be more comfortable on the Internet if they have a physical file to look at as well. You might want to consider keeping a folder near the computer with a list of your loved one's user IDs, passwords, and important addresses printed out. You can also print out screenshots and write down instructions for each page your loved one will be visiting.
Encourage Safety
You do not want to scare your loved one off from using the Internet, but he or she should understand some of the risks associated with being online. Until your loved one is comfortable with this technology, he or she should not open any unusual files, messages, or emails. Make sure to inform your loved one about how Internet scams work and why seniors are often targeted.
Stay Patient
Many older adults shy away from asking questions because they are afraid of being a nuisance, which often results in becoming so frustrated they give up on the idea entirely. Asking your loved one specific questions and offering help as much as possible can open up the lines of communication and help him or her overcome the steep learning curve.
Using the Internet on a regular basis can help seniors keep their minds stimulated, and they can also boost their brain health with the help of a professional caregiver from Home Care Assistance. All of our caregivers are trained in the revolutionary Cognitive Therapeutics Method, an activities-based program designed to help slow cognitive decline and delay the onset of dementia. In addition to Alzheimer's and dementia home care Philadelphia seniors can count on, we also offer flexible respite and live-in care services. Learn more by calling a qualified Care Manager at (215) 645-4663 today.