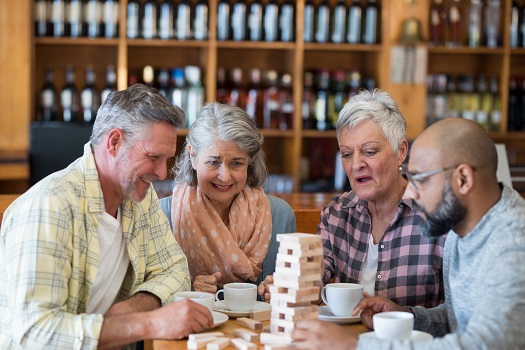 Staying active is essential for older adults, including those with limited mobility. There are a variety of games they can play while sitting on the couch, in a chair, or in the comfort of bed. Take a look at some of the games your aging loved one can have fun playing while sitting down.
1. Mobile Device Games
Seniors can use their smartphones, tablets, computers, and other web-enabled devices to play games while sitting. Your parent can choose from some of the most popular game apps, such as Candy Crush and Words with Friends. These games provide the brain stimulation your loved one needs to preserve his or her memory and reduce the risk of dementia and Alzheimer's. Mobile games are fun, prevent boredom, and can be enjoyed while sitting down. 
Playing games can reduce stress for aging adults, and family caregivers need to do things for themselves to boost their own mental and emotional health. Caring for a senior loved one can be rewarding, but it can also be overwhelming for family caregivers who have other responsibilities they need to focus on. For these families, the perfect solution is respite care. Philadelphia families rely on our caregivers whenever they need time to rest, work, run errands, and even go on vacation.
2. Puzzles
A lot of seniors live sedentary lifestyles for various health reasons. However, this doesn't keep them from doing fun activities such as solving puzzles. Seniors can find puzzles online, complete puzzle books, or have their family caregivers create fun puzzles to solve while sitting down. Completing puzzles can enhance vision and lead to enhanced problem-solving skills. You can find a variety of fun puzzles for your loved one based on themes such as music, art, and food.
3. Card Games
If your loved one likes to play classic card games like Rummy, Spades, and Crazy Eights, he or she can do so from a chair without the need to stand up and move around. Thanks to modern technology, seniors can also use computers and mobile devices to join card games online and play with other people on the Internet. Card games are fun, but the activity also enhances logical thinking and math skills. When seniors play games with other people, the activity can boost their social skills and lead to better communication, which is vital for aging adults. 
For seniors with mobility issues or other health conditions that make it challenging to get up and down from a chair, a professional caregiver can be a great asset. If your aging loved one needs help managing everyday tasks or encouragement to adopt healthier lifestyle choices, turn to Home Care Assistance, a leading provider of elder care. Philadelphia Home Care Assistance provides professional in-home caregivers around the clock to help seniors live longer, happier, and healthier lives.
4. Keep-Away
If your loved one is looking for a more physically active game to play while sitting down, keep-away should be at the top of the list. Your loved one can toss the ball with you, the grandchildren, and other participants. Two players need to keep the ball away from the person sitting in the middle to avoid becoming "it." Playing keep-away can strengthen the arms, help with patience, and boost concentration.
5. Guess That Song
While sitting down, your loved one can listen to songs and guess the name of each tune, the artist singing the song, and the era when the song was released. Merely listening to music can reduce blood pressure and alleviate pain. The rhythm of the music can relax the mind and body, lowering the risk of depression and insomnia. Encourage your loved one to play this game as often as possible and watch how it boosts his or her quality of life.
All these games offer wonderful opportunities for seniors to get mental stimulation and socialize without having to move around much. If your aging loved one has health conditions or mobility issues that make it a challenge to move from a seated position, help is available. In Philadelphia, home care agencies can be a great boon to seniors. With the help of the caregivers at Home Care Assistance, your aging loved one can lead a happier and healthier life. We offer a revolutionary program called the Balanced Care Method, which encourages seniors to eat nutritious foods, exercise and socialize regularly, and focus on other lifestyle factors that increase life expectancy. Call Home Care Assistance at (215) 645-4663 to learn more about our flexible and customizable senior care plans.