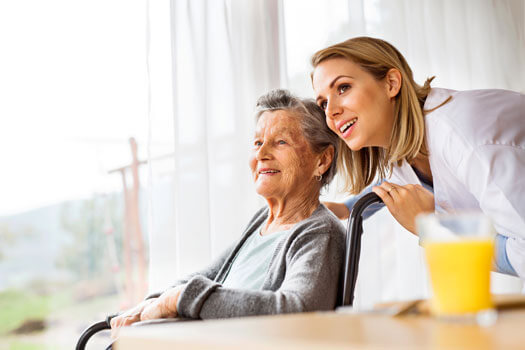 Over the course of the caregiving journey, family caregivers often pick up new knowledge and skills, ranging from how to manage time like a pro to how to perform CPR. However, some caregivers may develop these new skills after being faced with an unexpected situation. Here are some of the unexpected challenges of caregiving and how to overcome them.
1. Healthcare Concerns
When it comes to the healthcare system, new caregivers are often inexperienced. You may have primarily used health insurance for scheduling annual doctor's appointments and filling prescriptions. However, as a caregiver, you may have to learn more about the healthcare industry. If you're initially perplexed, don't give up easily. There are more important things than understanding arcane healthcare policies, like advocating for your senior loved one. If your loved one sees multiple medical professionals, you may discover these doctors don't always communicate or coordinate. In these instances, it becomes your job to know everything there is to know about your loved one's condition and advocate on his or her behalf.
Getting regular checkups is just one of the many ways older adults can maintain their health. Seniors who want to remain healthy as they age can benefit in a variety of ways when they receive professional Home Care Philadelphia Home Care Assistance is here to help your loved one accomplish daily tasks, prevent illness, and focus on living a healthier and more fulfilling life. 
2. Physical Requirements of Caregiving
Many caregivers are surprised by how much physical activity goes into caregiving. When care recipients have limited mobility, caregivers may have to help them with tasks like getting out of bed and getting into the bathtub. For people not used to bearing weight, these tasks can be physically demanding. To prevent muscle strain and injuries, research the best transfer methods. You may also want to add weight training to your exercise regimen, as it can help you prepare for physically demanding duties.
If your aging loved one needs occasional help with bathing, grooming, cooking, or other basic household tasks, or if you need time to attend to important personal matters, reach out to Home Care Assistance, a leading provider of live-in and respite care. Philadelphia seniors can maintain their independence while living at home with the help of our reliable respite caregivers.  
3. Lack of Skills
Caregiving often requires a special skill set. You may need to learn certain skills that professionals go to school to master. The learning curve can be steep, but most caregivers figure it out eventually. If you're nervous about learning new skills, don't be afraid to ask for help.
4. Isolation
When caregivers take on the role, they may not realize the extent to which their social lives are about to change. If your loved one needs around-the-clock assistance, you may not be able to leave the house for an impromptu coffee run or weekend movie. However, if you don't spend enough time with friends and family members, your emotional health could be affected. In the early days of caregiving, find ways to stay connected with your friends, whether through texting, Skype, or meet-ups planned in advance.
5. The Inability to Manage Everything Alone
Family caregivers can save plenty of time and heartache if they accept that they can't do everything. Caregivers who try to do everything by themselves end up overworked, anxious, and depressed. Early on, develop a large network of people willing to pitch in when necessary. Seek help from friends and family members, or turn to in-home respite care services when you need time off.
Seniors can face a variety of age-related challenges. Though some families choose to take on the caregiving duties, there may come a time when they need a trusted Philadelphia senior care provider. Families sometimes need respite from their duties so they can focus on their other responsibilities, and some seniors need around-the-clock assistance that their families are not able to provide. Home Care Assistance is here to help. To learn about our high-quality in-home care options, give us a call at (215) 645-4663 today.