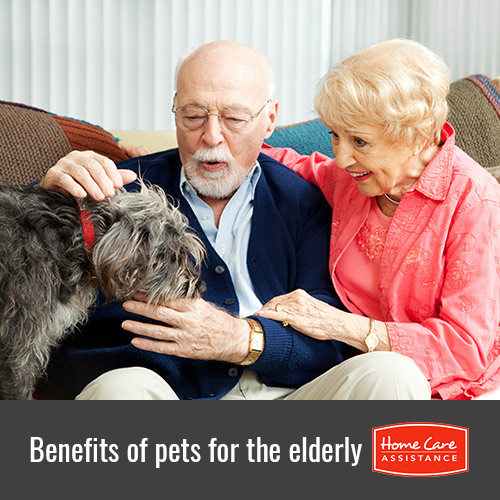 Seniors should always have a beloved pet to keep them company throughout the day. Though companionship is a huge reason for a senior to get a pet, there are also many other benefits to be gained from spending time with an animal companion. Philadelphia, PA, home care experts discuss a few of these advantages.
Encourage Daily Exercise
Sticking to an exercise regime can get boring. For this reason, seniors sometimes need to find ways to stay motivated. Knowing his or her puppy is ready to go for a walk may encourage your loved one to lace up his or her shoes and get going.
Help Maintain a Routine
When seniors live alone, it can be easy for them to let time slip away. Having to feed, walk, and groom a pet regularly helps seniors keep a routine. Your loved one can even tie together elements of his or her healthcare routine with a pet. For example, taking medications at the same time your loved one feeds the pet can help reinforce the action in his or her memory.
Lower Blood Pressure
Seniors who spend time around animals experience a drop in blood pressure, which helps prevent strokes and heart disease. In fact, it only takes a few minutes of stroking a pet's fur for your loved one to enjoy this health benefit.
Decrease Stress
One reason playing with an animal helps lower blood pressure is because seniors experience stress relief when they are around their pets. Not only can a pet's playful antics help take your loved one's mind off his or her problems, but it also prompts him or her to laugh and smile. Seniors look forward to seeing what their pets will do each day, which makes it easier to shake off stressful moments.
Sense of Security
Living alone exposes seniors to new potential dangers, but having a dog can scare away intruders and make your loved one feel safer. Seniors who take a dog along on walks also enjoy an added sense of security that encourages them to get out more. Though your loved one might know his or her dog would never do any harm, just hearing a bark through the door is often enough to frighten most home intruders.
If your loved one is not able to have a pet, an in-home caregiver can help meet the above needs in a much different way. At Home Care Assistance of Philadelphia, our caregivers can assist with exercise, provide emotional stimulation, and help with a variety of daily tasks. In addition to respite and live-in care, we also offer comprehensive Parkinson's, post-stroke, and dementia home care Philadelphia families trust. For more information on our at-home care services, call one of our friendly Care Managers at (215) 645-4663 to schedule a complimentary consultation.