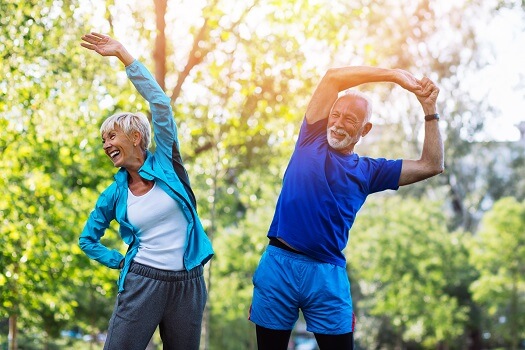 Growing older is a part of life, but that doesn't prevent seniors from aging gracefully. If they choose to live healthy, they could increase their longevity and independence. Below are some secrets your senior loved one can use to increase his or her odds of healthy aging.
1. Eat Right
The foods seniors eat can boost memory, vision, and immune function. These are common areas in which seniors experience issues as they age, but eating foods full of fiber, vitamins, antioxidants, and other helpful nutrients can enhance overall health and allow older adults to age in place independently.
2. Exercise Regularly
Physical movement is one of the best ways for seniors to boost their bone health as well as their skin's appearance. Exercise can tone muscles and increase moisture in the skin, preventing issues such as arthritis and skin wrinkling. 
If you usually help your loved one exercise but need a break now and then, hiring a home caregiver to take over on occasion is a great option. Philadelphia respite care professionals can assist seniors with a wide array of daily tasks, offering family caregivers the chance to focus on other personal responsibilities or take a break to prevent burnout. Whether it's for a few hours a day or a few days a week, respite care is the perfect solution for family caregivers who are feeling overwhelmed.
3. Develop Positive Habits
Receiving bad news can be difficult for older adults, affecting their emotional health. Seniors can prevent poor emotional health by developing positive habits instead of turning to harmful methods such as overeating and drug abuse. Some positive ways for seniors to manage their emotions include:
Exercising

Joining a support group

Doing arts and crafts

Meditating 
In Philadelphia Home Care agencies can be a great boon to seniors. With the help of the caregivers at Home Care Assistance, your aging loved one can lead a happier and healthier life. We offer a revolutionary program called the Balanced Care Method, which encourages seniors to eat nutritious foods, exercise and socialize regularly, and focus on other lifestyle factors that increase life expectancy.
4. Take Vitamin Supplements
Consuming the nutrients the body needs may not always be possible through only eating a healthy diet. In these cases, seniors may need to take vitamin supplements to enhance the function of their organs and reduce the risk of various age-related conditions. Speak with your loved one's primary care physician about supplement suggestions.
5. Continue Working
Sometimes medical bills and other expenses can cause anxiety in seniors. However, finding part-time work in the senior years could supplement your loved one's income and alleviate some of the financial stress he or she may be feeling. Working after retirement or volunteering could also enhance your loved one's quality of life and lead to healthy aging.
6. Socialize Often
Loneliness is harmful to the health of aging adults, and it can cause heart disease, depression, obesity, and other severe conditions. However, spending time with like-minded people can alleviate boredom and lead to purposeful activities. Encourage your loved one to join social networks online or sign up for senior-friendly clubs within the community.
7. Stop Smoking
Tobacco products are harmful to the organs and can speed up cognitive decline. Seniors should avoid smoking, whether it's in the form of cigarettes, cigars, or vaping devices. When they quit smoking, seniors can lower their risk of a stroke or various cardiovascular issues that negatively affect the aging process.
8. Hire a Home Caregiver
Having someone around to help with daily tasks could relieve a lot of pressure, allowing seniors to focus on their goals and overall health. Speak with your loved one about the mental, physical, and emotional benefits of home care to make the transition easier, and explain how it could increase the odds of healthy aging.
Seniors who want to remain healthy as they age can benefit in a variety of ways when they receive professional home care services. Philadelphia, PA, Home Care Assistance is here to help your loved one accomplish daily tasks, prevent illness, and focus on living a healthier and more fulfilling life. If you need professional home care for your aging loved one, our Care Managers are just a phone call away. Reach out to Home Care Assistance today at (215) 645-4663.