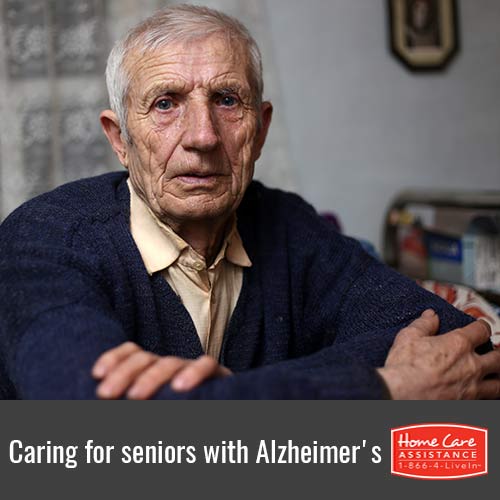 Caring for an elderly family member with Alzheimer's can prove to be a challenge, regardless of what stage he or she is in. Making sure doctor's appointments and prescriptions are up to date or just overseeing your loved one's health may become your responsibility. For home care, Philadelphia caregiving experts have some tips on how to effectively care for your senior loved one with Alzheimer's.

Increase Communication
When communicating with your loved one, always approach from the front, and reintroduce yourself if he or she does not remember who you are. Be sure to turn off the television or radiowhen speaking, as background noise can be a huge distraction. Other communication tips to help care for someone living in the advanced stages of Alzheimer's include:
Using short sentences and easy words
Only making one point at a time
Saying your loved one's name as a reminder
Facing your loved one when you are speaking to him or her
Giving your loved one plenty of time to respond
Implement Sleeping Strategies
Alzheimer's is known to disrupt sleeping patterns, which can cause seniors to be restless at night. Your loved one may confuse night with day and attempt to sleep during an abnormal hour.Some tips to help your loved one develop a better sleeping pattern include:
Making the time of day obvious
Limiting the amount of napping your loved does
Ensuring your loved one's bedroom is peaceful
Helping relieve any pain that may be disrupting sleep
Encourage Exercise
Exercise can be beneficial to seniors living with Alzheimer's because is known to boost moods and can promote a normal day and night routine. Instead of doing a standard exercise routine, incorporate exercise into daily activities. Your goal is to make sure your loved one is moving his or her body. Some activities your loved one can do include
Watering plants
Dancing
Riding a bicycle
Dusting furniture
Playing horseshoes
Feeding birds
Prevent Wandering
Wandering is an issue many seniors living with Alzheimer's have, which can lead your loved one vulnerable to weather, traffic, and those who prey on the less fortunate, but there are strategies you can use to deal with this problem, such as:
Blocking doors
Providing your loved one with a safe place to roam
Installing an alarm system
Making sure your loved one has an ID
It can be challenging to care for a senior in any stage of Alzheimer's, but your loved one's safety and health are important. If he or she needs assistance with any daily tasks or routines, reach out to Home Care Assistance, a leading provider of Alzheimer's care in Philadelphia. Our caregivers are trained in the Cognitive Therapeutics Method, which aims to improve quality of life for seniors of all cognition levels and helps promote mental acuity and brain health in those with Alzheimer's. For more information on our senior care services, call (215) 645-4663 to schedule a complimentary in-home consultation.