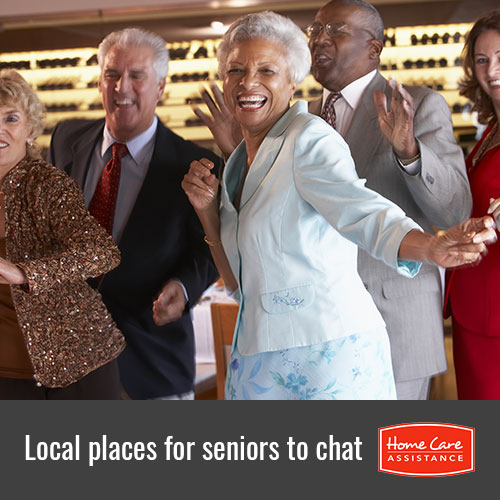 Though some seniors might believe it's difficult to find romance at their age, it could be as simple as attending a local senior-friendly center and meeting other older adults with similar interests. Home Care Philadelphia experts have compiled a list of local spots where your aging loved one can build new friendships or a possible love connection.
1. West Philadelphia Senior Center
Located at 1016 North 41st Street, this center offers the Lunch with Us program. Seniors participating in this program can enjoy delicious food and engaging conversation. The center offers an inexpensive continental breakfast and a nutritious hot meal for lunch Monday through Friday, and members aged 60 and over get lunch for free. Participating in a meal program ensures your loved one is getting proper nutrition, and it is a wonderful chance to socialize and meet new people his or her age who can help boost his or her self-esteem.
2. Northern Liberties Recreation Center
This community center at 321 Fairmount Avenue offers a free, non-alcoholic adult improv comedy night the third Friday of the month starting at 8pm. At this event, your loved one will have a chance to mingle and laugh while listening to comedy acts from some of the most talented people in Philadelphia and the surrounding areas. Laughing and socializing can enhance your loved one's overall health.
3. Center in the Park
Located at 5818 Germantown Avenue, this facility offers the CIP's Breakfast Café, which serves a light nutritious breakfast every Monday, Wednesday, and Friday from 8am to 10:15am. This breakfast ensures seniors start their day with a healthy meal and companionship that can help keep them from feeling isolated and lonely. During this breakfast, your loved one can also learn about local community resources available to him or her.
4. Cannstatter Volksfest-Verein
This club at 9130 Academy Road hosts an exciting bingo night every Thursday from 6:30pm to 10pm that your loved one can have a blast playing. Your loved one can also take advantage of the Bingo and Dinner package for $25, which includes basic admission, a delicious dinner from 4pm to 7pm, and extra bingo games. The doors open at 5pm, which gives your loved one the chance to mingle and meet new people before the dinner and bingo begins. Playing bingo promotes socialization and can help boost your loved one's short-term memory and listening skills.
Social companionship is crucial in the senior years, and your loved one doesn't necessarily need a romantic connection to receive the social stimulation he or she needs. A professional caregiver from Home Care Assistance can provide companionship care as well as help with a variety of everyday household tasks. We are a leading provider of live-in and part-time care Philadelphia seniors can count on, all of our in-home care services come with a 100% satisfaction guarantee, and we never ask our clients to sign long-term contracts. For more information and to schedule a free consultation with a friendly Care Manager, call (215) 645-4663 today.