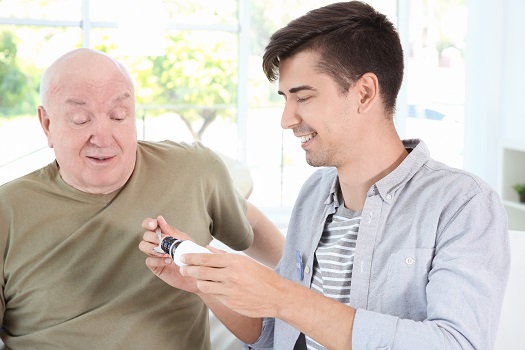 Medication mishaps are common, and while forgetting to take one dose or taking a double dose rarely results in serious consequences, other medication mishaps may. Fortunately, there are steps you can take to ensure medication mistakes are avoided and your senior loved one stays safe.
Get a Medication Dispenser
Using a medication dispenser allows you to place all of your loved one's medications in daily compartments so you know if the medications were taken, which cuts down on medication mishaps and eliminates fear and worry pertaining to double doses. You can purchase a medication dispenser at any drugstore or pharmacy, and there are a wide range of product features to choose from. 
If you aren't always able to be with your loved one to make sure he or she takes medications correctly, consider hiring a professional caregiver. In Philadelphia, in-home care providers can benefit aging adults in a variety of ways. From cooking nutritious meals to offering timely medication reminders, the dedicated caregivers at Home Care Assistance are available to help your elderly loved one 24 hours a day, 7 days a week.
Check for Pharmacy Errors
When picking up your loved one's prescriptions from the pharmacy, make sure you check the bag and bottle the medications come in to prevent your loved one from taking the wrong medication or dosage. While uncommon, pharmacy errors do occur. In addition, it's possible the pharmacy clerk could accidentally give you another customer's medication when you pick up your loved one's prescription. It's essential to check the prescribing label on the medication bottle to ensure your loved one's name and the medication name and dosages are correct. Elderly people who take the wrong medication or dosages can experience serious health consequences, so each time you pick up a new prescription, always double-check them for accuracy.
For some seniors, failing to take medications correctly can have major consequences. Living with a serious health condition can make it challenging for seniors to age in place. However, they can maintain a higher quality of life with the help of professional live-in care. Philadelphia seniors can benefit from assistance with meal prep, bathing, transportation to the doctor's office, medication reminders, and much more.
Keep Medications Out of Reach
As people age, they may be more susceptible to memory loss and dementia. Even though your loved one may want to maintain independence when it comes to taking prescription medications, don't allow it if he or she has cognitive deficits. Also, side effects from certain medications can cause a cloudy memory, which raises the risk for errors. If you want to give your loved one some control over his or her medications, allow him or her to retrieve the drugs from the dispenser or bottle, but only under your direct supervision.
Be Careful of Similar Drugs
Certain medications look similar to others. In addition, the spelling can also be similar, or the names may sound the same. For example, Zantac, which is a medication used in the treatment of acid reflux disease, may be mistaken for the brand name of the anti-anxiety medication Xanax. While your loved one may have been prescribed both of these medications, getting them mixed up could lead to serious health consequences. Always double-check the name and dosage. If you've forgotten what the medications are used for, don't allow your loved one to take them until you've called the physician or the pharmacist for clarification.
Seniors need to make sure they take medications as prescribed, and having a professional caregiver close by can be just what an aging adult needs to be reminded how and when to take medicine. Many seniors prefer aging in place over moving to an assisted living facility. If your senior loved one needs assistance to remain safe and comfortable while living at home, reach out to Home Care Assistance, a leading Philadelphia Home Care agency. Our dedicated in-home caregivers can assist with meal prep, bathing and grooming, exercise, medication reminders, and many other important tasks. To schedule a free in-home consultation, give us a call at (215) 645-4663 today.