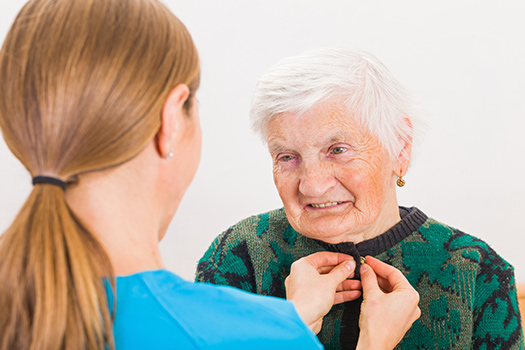 Proper grooming is vital to a senior's physical and mental health. Maintaining good personal hygiene habits can enhance a senior's quality of life and prevent a variety of serious health complications. Here are seven tips family caregivers can use to ensure their loved ones look and feel their best at all times.
1. Rethink Wardrobe Options
Seniors who find it difficult to put on certain types of clothes might eventually end up wearing the same outfits day after day. Certain mental health disorders can also make choosing an outfit stressful if there are too many options. Investing in a few simple and comfortable outfits made from stretchy materials can make grooming and dressing much less tense for seniors and their caregivers.
Helping a loved one with dressing, grooming, and other personal hygiene tasks can be a challenging job. Families who need help caring for a senior loved one can turn to Home Care Assistance, a leading provider of Philadelphia, PA, home care. Services available in our customizable care plans include meal prep, mental and social stimulation, assistance with personal hygiene tasks, and much more. 
2. Create a Dressing Routine
A strict dressing routine could be beneficial if your loved one gets frustrated when changing clothes. If you have decided your loved one should change clothes every two days, you can put the clean outfit out a day in advance to prevent issues the next morning. Encourage your loved one to put on clothes in the same order and at the same time every day to make it a habit.
3. Use the Right Products
Dexterity issues are common among the elderly, and they can make shaving and brushing challenging. Luckily, there are many great products on the market designed specifically for those who have a difficult time gripping certain objects or making precise movements. Your loved one might benefit from switching over to an electric toothbrush and razor.
4. Increase Safety in the Bathroom
When your loved one is bathing, your primary concern should be his or her safety. At some point, most seniors need to have certain safety features installed in the bathroom to prevent slip and fall-related accidents. One simple way to make the bathroom safer is to place grab bars near the toilet and bathtub.
5. Increase Comfort in the Bathroom
Many steps can be taken to make your loved one more comfortable while using the bathroom. Some seniors have a difficult time regulating their body temperatures, and turning up the heat just before they take a bath could make the experience less unpleasant. You can also buy or rent a tub bench so your loved one can wash up without bending over or moving too much.
To make your loved one's bathing and cleaning experience smoother, consider hiring a caregiver. Professional caregivers are trained to assist seniors with a wide array of daily activities such as toileting, cleaning, bathing, dressing, and grooming. Whether your elderly loved one needs part-time assistance with basic household chores or you need a break from your caregiving duties, the Philadelphia respite care experts at Home Care Assistance are here to help. All of our respite care services are backed with a 100% satisfaction guarantee, there are no hidden fees in our contracts, and we never ask our clients to sign long-term contracts.  
6. Wash Linens Regularly
In addition to keeping your loved one's skin and clothes clean, you also need to sanitize the linens he or she regularly comes into contact with. Germs can survive in blankets and towels for weeks, and these items should be washed regularly to kill bacteria. Seniors who have incontinence issues might need to use disposable bed pads to keep linens dry.
7. Ask the Doctor About Proper Hygiene Habits
Some seniors need to bathe or wash up every day, while others may only need to shower once a week. Work with your loved one's doctor to decide on a personal hygiene schedule that is manageable. The schedule should include how often your loved one needs to shave, visit the barber, and change clothes.
Seniors who need assistance with daily tasks such as dressing and grooming can benefit from professional in-home care. If your senior loved one needs help managing an illness or assistance with daily tasks, make sure you choose a top-rated home care agency. Philadelphia Home Care Assistance is here to help your loved one live a happier and healthier life in the golden years. From the mentally stimulating activities in our Cognitive Therapeutics Method to our friendly Care Managers who are available to answer your questions 24 hours a day, we offer a wide array of high-quality at-home care services. To create a comprehensive home care plan for your loved one, talk to one of our professional Care Managers at (215) 645-4663 today.