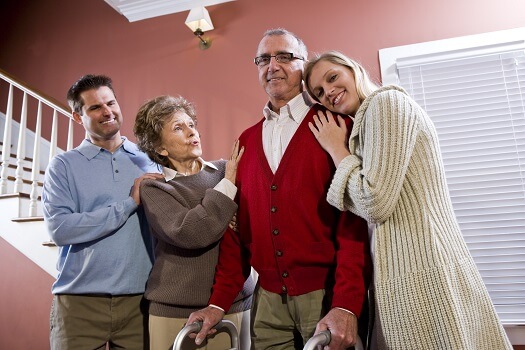 As seniors age, they may need the assistance of others due to chronic illness, injury, or cognitive impairment. In these instances, many adult children step up to the challenge and become caregivers. For the benefit of the caregiver and the elderly parent, a network of supporters should be established to share responsibilities. However, it's not unusual for siblings to resist becoming part of the network. In the event your siblings aren't helping with your parent's care, consider adopting the following strategies.
Overcome Distances
When families are separated by distance, there are still ways siblings can offer a helping hand. If needed, they might be willing to assist in managing the financial matters of the household. Monthly bills can be paid online without having to live in the same community as the senior. Perhaps siblings might lend a hand financially in the event their parent needs assistance with medical bills or other costs.
Aging adults who require assistance with the tasks of daily living can benefit from reliable Home Care Philadelphia, families trust in Home Care Assistance to provide the high-quality care their elderly loved ones need and deserve. Our caregivers are trained to help seniors prevent and manage serious illnesses and encourage them to make healthier decisions as they age.
Consider Personalities
Consider the interests, skills, and talents of each sibling, and make requests based on their specific characteristics. A sibling who enjoys outdoor activities might be willing to take your parent fishing or out for a nature walk to provide you with a few hours of free time. Another sibling might be talented in terms of DIY projects and be willing to remedy home repairs. A brother or sister with cooking skills may have the time to prepare meals in advance.
Provide Psychosocial Support
Even if your siblings aren't available to help with the physical requirements of caregiving, they can help by lending an ear. When you encounter challenges or frustration along the way, you need someone you can share your concerns with. When needed, siblings can offer emotional support or perhaps a different perspective on the matter.
Ask for Help
Sometimes caregivers expect their siblings to automatically pitch in. To get the help you require, make sure to communicate your needs to your siblings. Otherwise, your siblings might be under the misconception that all is going well. Keep your emotions in check while having the conversation. Put anger, hurt, and other negative thoughts and feelings aside before calmly discussing the situation.
Family caregivers sometimes need a break from their caregiving responsibilities. When they need respite care, Philadelphia families can rely on professional caregivers to help their senior loved ones remain safe at home.
Look for Alternative Sources
If your siblings are unable or unwilling to help, research other options that might be available in the community. Friends or neighbors might be willing to lend a hand when needed. Many cities commonly have support groups where caregivers come together to share the joys and challenges they face. County and state programs often have various financial service programs to help low-income seniors. In-home caregiver services are also available on an as-needed basis.
Seniors can face a variety of age-related challenges. Though some families choose to take on the caregiving duties, there may come a time when they need a trusted Philadelphia senior home care provider. Families sometimes need respite from their duties so they can focus on their other responsibilities, and some seniors need around-the-clock assistance that their families are not able to provide. Home Care Assistance is here to help. To talk to one of our professional Care Managers, give us a call at (215) 645-4663 today.