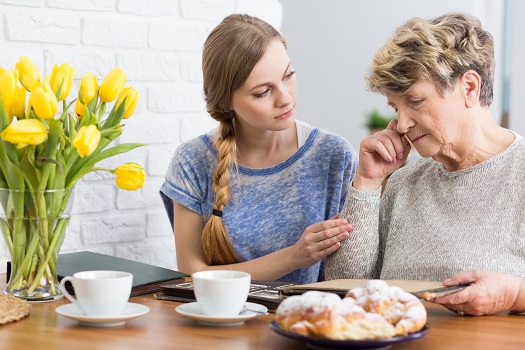 Dementia can cause many symptoms, most of which affect the brain in some way. Though memory loss is most commonly associated with this condition, many people may not realize dementia can have a significant impact on a senior's visual perception as well. However, dementia and vision changes often occur together. If your elderly loved one has dementia, you might be interested in learning about its effects on vision.
1. Hallucination
One of the common issues seniors with dementia experience is hallucinations. Aging adults with dementia often see distorted versions of reality. A hallucination involves "seeing" or "perceiving" things such as animals, people, or objects that aren't really there, and an illusion may occur due to an object's characteristics. For example, a toilet that's the same color as the wall behind it may seem to disappear.
Although hallucinations can be stressful for seniors and their caregivers, the delusions aren't permanent. Some of the ways to stop hallucinations in older adults living with dementia are to adjust the lighting in the home and avoid flooring and furniture with stripes and multicolored patterns. You can also help your loved one prevent these occurrences by using medium contrasting colors to highlight objects you want him or her to see.
Vision issues resulting from dementia may make it difficult for seniors to complete everyday tasks on their own. If your senior loved one has been diagnosed with a serious condition and needs help with tasks like meal prep, transportation, bathing, and grooming, reach out to Home Care Assistance, a leading provider of home care service families can trust. We also offer comprehensive care for seniors with dementia, Alzheimer's, and Parkinson's.
2. Misidentification
Damage to certain parts of the brain may make it difficult for your loved one to identify and remember the names of everyday objects or familiar people. While this can be frustrating, it's important to avoid focusing on the mistakes or correcting your loved one constantly. Instead, offer frequent reminders or use visual clues and gestures to aid in communication.
Caring for a senior loved one can be challenging for families who don't have expertise or professional training in home care, but this challenge doesn't have to be faced alone. Family caregivers can turn to Philadelphia Home Care Assistance for the help they need. We provide high-quality live-in and respite care as well as comprehensive Alzheimer's, dementia, stroke, and Parkinson's care.
3. Depth Perception
When combined with age-related vision changes, the visuoperceptual complications associated with dementia can lead to difficulties with depth perception. The areas of visual perception can become smaller due to dementia, impacting the way seniors see things. Aging adults with dementia may have difficulty recognizing nearby objects and people. Your loved one might bump into things, swerve to avoid door frames, and step high over shadows or changes in flooring.
Issues with depth perception can increase the risk of falling because your loved one may not always be able to tell when something requires him or her to step up or down. You can help your loved one by ensuring there's adequate lighting throughout the house and using reflective tape to indicate level changes.
4. Misinterpretation
Visual perception issues can arise when the brain misinterprets what it's seeing. For example, a high-gloss floor may appear wet, or a dark floor mat may appear to be a deep hole. A senior with dementia might interpret shadows or reflections as something frightening, such as an intruder. This may become worse in the late afternoon and evening, when sundowning can cause increased confusion and anxiety. You can help by removing decorative mirrors, closing blinds and curtains, and turning on extra lights to eliminate shadows.
Even when families have the best intentions, caring for a senior loved one with dementia can be challenging. Fortunately, Home Care Assistance is here to help. We are a leading provider of dementia care. Philadelphia families can take advantage of our flexible and customizable care plans, and our caregivers always stay up to date on the latest developments in senior care. To learn about our quality-assured services, give us a call at (215) 645-4663 today.