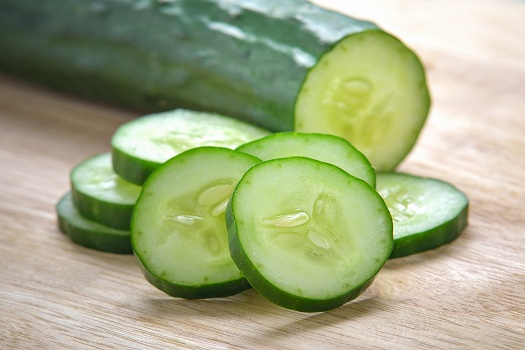 Cucumbers are a versatile and tasty vegetable that grows abundantly during the summer. Since they're low in calories and packed with nutrients and other beneficial compounds, cucumbers can be a great way for seniors to get the nutrition they need. Here are some more specific reasons you should include cucumber in your senior loved one's meals and serve it as a tasty snack. 
Encourages Weight Loss
Cucumbers prevent a variety of health problems brought on by obesity because they're extremely low in calories. An entire cup of cucumber contains a mere 16 calories, which is why it's the perfect low-calorie snack for a senior who is trying to watch his or her weight.
Promotes Blood Clotting
Vitamin K is essential for helping people heal from injuries. This is because it causes blood to clot, which prevents bleeding excessively with each bump or cut. Cucumbers are a great source of vitamin K, providing almost 20 percent of a senior's recommended daily amount of the mineral with each cup.
Eating nutritious meals is one of the healthiest lifestyle choices older adults can make. If your aging loved one needs help managing everyday tasks or encouragement to adopt healthier lifestyle choices, turn to Home Care Assistance, a leading provider of senior care. Home Care Assistance provides professional in-home caregivers around the clock to help seniors live longer, happier, and healthier lives.
Aids in Digestion
The high levels of fiber and water found in cucumbers help the body properly digest foods. Eating cucumbers has been linked to less acid reflux, bloating, stomach upset, and abnormal bowel movements as well. 
Reduces Pain
The anti-inflammatory flavonoids, tannins, and other antioxidants found in cucumbers have been linked to lower pain levels by a 2010 study published in the Journal of Young Pharmacists. This is particularly beneficial for seniors living with osteoporosis or arthritis. 
Balances Blood Pressure
Cucumbers contain a lot of water and potassium, but they have almost no sodium. The electrolytes and water provided by cucumbers reduce high blood pressure. Consequently, this can reduce the risk of heart disease and stroke.
Some older adults need help preparing nutritious meals. If your aging loved one needs occasional help with bathing, grooming, cooking, or other basic household tasks, or if you need time to attend to important personal matters, reach out to Home Care Assistance, a leading provider of live-in and respite care. Philadelphia seniors can maintain their independence while living at home with the help of our reliable respite caregivers.
Provides Antioxidants
Antioxidants protect the body from oxidative cellular damage that causes age-related degeneration and cancer. Cucumbers contain multiple antioxidants, including carotene, lutein, and zeaxanthin. 
Prevents Memory Degeneration
Seniors with dementia can benefit from eating cucumbers. This is because Alzheimer's disease, Parkinson's disease, and many other age-related conditions are linked to heightened levels of brain inflammation. A 2014 study by the Aging Cell Journal found cucumbers could reduce Alzheimer's risk because it provides fisetin, a powerful anti-inflammatory compound.
Along with eating vegetables like cucumbers, it's important for seniors to maintain a well-rounded, balanced diet. Not every senior has the same care needs, which means they don't all need the same type of homecare. Philadelphia families can rely on Home Care Assistance to provide individualized care plans to meet their elderly loved ones' unique care needs. Our holistic Balanced Care Method was designed to help seniors focus on healthy lifestyle habits such as eating nutritious foods, exercising regularly, and maintaining strong social ties, and our Cognitive Therapeutics Method offers mentally stimulating activities that can stave off cognitive decline and delay the onset of dementia. To learn more about our premier in-home care plans, call us at (215) 645-4663 today.