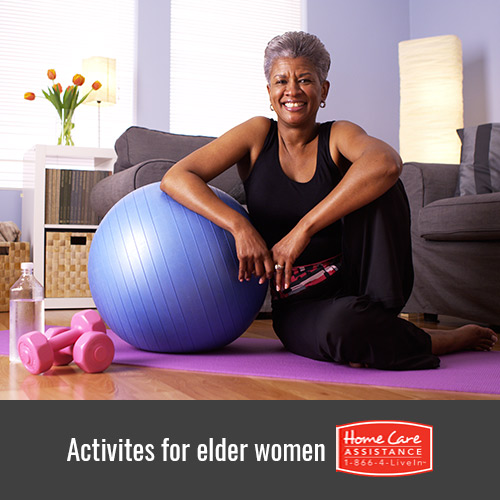 It is important for senior women to exercise on a regular basis so they can prevent age-related health conditions and enhance their overall quality of life. If your elderly loved one needs to add some simple physical activity into her daily routine, the Philadelphia live-in care experts at Home Care Assistance suggest 5 types of exercises for her to try.
1. Endurance and Aerobic Exercises
Heart disease is the main cause of death among senior women, which makes exercising extremely important. Aerobic exercises can help burn calories and lower blood and cholesterol levels. It may take your loved one some time to build up endurance, but even 5-minute sessions a few days a week can help boost her heart health and increase her energy levels. Your loved one can try moderate endurance and aerobic exercises such as:
Brisk walking
Swimming
Tennis
2. Balance Exercises
Women over 65 are more susceptible to falling due to poor balance, muscle weakness, slow reflexes, and postural hypertension. However, participating in balance exercises can help prevent falls and other serious health concerns. These types of exercise also speed up the ability to recover from a fall. Some of the most effective types of balance exercises for senior women include:
Body circles
Knee marching
Lower limb stretching
3. Strength Training
Strength training exercises can help alleviate arthritis, a disease that causes pain, swelling, stiffness, and loss of function in the joints and affects senior women more than men. Arthritis can also cause depression, low self-esteem, anxiety, and other mental or emotional issues. By performing strengthening exercises, your loved one can maintain her muscle and bone mass. Strengthening her muscles may increase the amount of activity she can do. Senior women often prefer strengthening exercises like:
Chair and toe stands
Standing knee flexion
Arm raises
4. Stretching Warm-Ups
Your loved one should begin each workout performing stretches and warm-ups. A core concern for senior women is muscle strain and lack of flexibility. However, warm-up routines and stretching exercises reduce the risk of these issues. When warming up, your loved one should perform exercises such as:
Spinal stretches
Seated floor twists
Standing biceps
To prevent agitating her muscles, your loved one should not stretch too far. The purpose of these exercises is to boost cardiovascular health and increase joint and muscle flexibility.
5. Yoga
The fear of aging and losing independence could cause your loved one to have a negative outlook on life. However, yoga is a great physical activity for senior women who want to stay active and lower their stress levels. Signing your loved one up for yoga classes could prevent isolation, relieve stress, increase bone health, and help her age gracefully.
Living a sedentary lifestyle can have a negative impact on a senior woman's health. Make sure your loved one has the support she needs to engage in regular exercise by contacting Home Care Assistance in Philadelphia. In addition to assisting with physical activity, our dedicated caregivers can help your loved one accomplish a wide array of daily tasks in and around the house. Learn more about the home care Philadelphia families trust by calling one of our friendly Care Managers at (215) 645-4663.