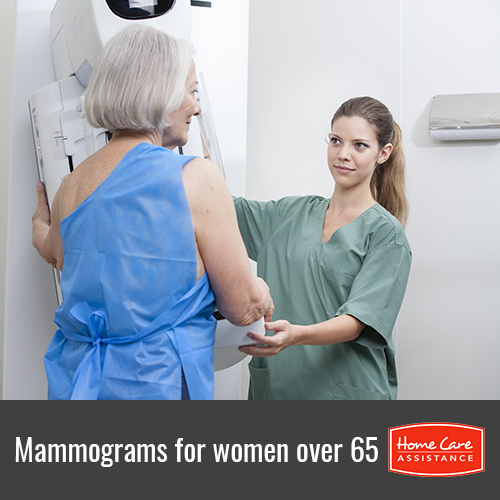 Getting a mammogram can be beneficial for seniors in many ways, but there are also some drawbacks that come with these breast screenings. The Philadelphia 24-hour care experts at Home Care Assistance discuss a few of the pros and cons your elderly loved one faces by getting mammograms past age 65.
Pro: Better Chance of Survival
Breast screenings offer women a better chance of surviving cancer, especially those past age 65. Senior women are generally diagnosed with a moderate form of breast cancer that is easier to treat compared to the more aggressive tumors younger women tend to develop. Your loved one should be tested every 1 to 2 years because it increases the odds of cancer being detected early, and immediate treatment can begin as a result.
Con: False Alarms
Women over 65 need to be tested more frequently than younger women, which leads to an increased chance of false positives, and they are likely to be called back for additional testing due to an abnormality shown on a mammogram. The stress from a false alarm could cause your loved one to have a stroke or heart attack. However, for many senior women, mammograms are normal and no breast cancer is actually found.
Pro: Finding Small Breast Cancers
Smaller breast cancers often go undetected, but having regular screenings increases the odds of finding them. Women over 60 are at a higher risk of developing breast cancer compared to younger women, which is why your loved one should be tested on a regular basis. A mammogram can help the doctor find these small breast cancers before your loved one notices or feels them.
Con: Radiation Exposure
Having a mammogram means a small amount of your loved one's breast will be exposed to radiation. The amount of radiation used from a modern mammography machine will not have the same effect on younger women as it would a woman past age 65. The radiation can kill blood vessels and nerve cells in your loved one's body, and it can also lead to heart failure.
For more information on screening for breast cancer in the senior years, reach out to Home Care Assistance. We are a leading provider of respite and live-in care, and our caregivers can provide transportation to medical exams, prepare nutritious meals, and help with a wide array of daily tasks. To learn more about the Home Care Philadelphia seniors count on, call one of our knowledgeable Care Managers at (215) 645-4663 to schedule a free in-home consultation.