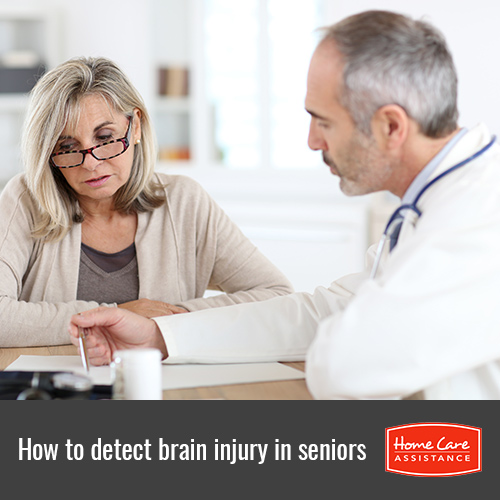 Brain injuries in seniors can range from mild concussions to severe injuries that cause long-term damage. Families providing Philadelphia home care should be aware of the potential signs of brain injuries and what to do should their elderly loved ones experience this type of harm.
1. Unconsciousness
Brain injuries in seniors typically cause a temporary loss of consciousness. Mild injuries can cause seniors to be unconscious for about 30 minutes or less, while more serious injuries can cause seniors to lose consciousness for longer periods. The most severe injuries result in unconsciousness that lasts for more than 24 hours. Help your loved one seek medical care as soon as possible if he or she loses consciousness for any length of time.
2. Nausea and Vomiting
Though nausea and vomiting are also associated with viral illnesses and gastrointestinal conditions, they should be regarded as possible warning signs if your loved one shows other signs of a brain injury. Contact a healthcare professional if your loved one experiences nausea and vomiting combined with other symptoms.
3. Confusion
Seniors with brain injuries do not always show symptoms right away. Sometimes confusion can develop a few days or more after an injury has occurred. Caregivers in Philadelphia should watch for confusion and other signs of brain injuries and seek medical care as soon as possible.
4. Headaches
Headaches can occur for many different reasons, but some types can indicate a possible brain injury. Seek medical care for your loved one if he or she experiences sudden or severe headaches or headaches that do not respond to over-the-counter treatments. These headaches can occur due to trauma that affects the brain.
5. Dizziness
Trauma to the brain due to an injury can cause seniors to feel dizzy or unsteady on their feet. Keep in mind dizziness can also increase the risk of falls, which could lead to additional injuries.
If your loved one is recovering from a brain injury or other illness and needs help around the house, reach out to Home Care Assistance. Our caregivers can assist with bathing, cooking, exercise, and much more, and we also offer comprehensive Parkinson's, post-stroke, and Alzheimer's home care Philadelphia seniors can count on. For more information on our at-home care services, call (215) 645-4663 to schedule an appointment with one of our experienced Care Managers.