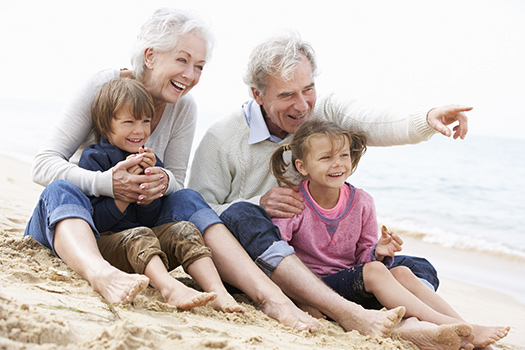 Grandparents have plenty of wisdom to impart to the younger generations. They've spent decades gaining knowledge on a variety of subjects, ranging from the importance of respect to the virtues of patience. Here are 10 lessons grandparents should teach their grandkids.
1. Treat Others the Way They Want to Be Treated
Grandparents should model the kind of behavior they want their grandchildren to display. One of the best lessons grandparents can teach is the importance of treating others with kindness and respect. When young grandchildren see their adult role models being rude or unkind, the lesson rubs off. When interacting with grandchildren, grandparents should strive to be conscientious and compassionate, whether they're dining at a restaurant or taking a trip to the park.
Spending time with the grandkids is one of the many ways seniors can stave off loneliness and maintain a high quality of life. If your elderly loved one needs help maintaining a high quality of life while aging in place, reach out to Home Care Assistance, a trusted provider of Philadelphia home care. Services our caregivers provide include transportation to and from medical appointments and social events, nutritious meal preparation, assistance with daily exercise, and help with everyday tasks like bathing, grooming, and light housekeeping. 
2. Work Hard
Many grandparents are retired, but this doesn't mean they can't teach their grandkids how to be hardworking and responsible. Grandparents can show their grandkids the importance of diligence by getting involved in the kids' favorite hobbies and helping them succeed.
3. Family History Links Older and Younger Generations
Every family has a unique history. Grandparents are qualified to share genealogical anecdotes with their grandkids, and these stories often promote generational bonds.
4. Waste Not, Want Not
Kids can sometimes be careless about their possessions, but grandparents can teach them about taking care of their belongings.
5. Laughter Is the Best Medicine
Spending time with grandkids is a joyful experience filled with laughter. Seniors should show their grandkids the importance of happiness by letting them know how much they value their time together. Grandparents can plan fun-filled outings for the whole family, whether it's seeing the latest comedy at the movie theater or taking a trip to an amusement park.
Alternately, you can take a break from your caregiving duties to plan a fun trip for your aging loved one and his or her grandchildren. If your aging loved one needs occasional help with bathing, grooming, cooking, or other basic household tasks, or if you need time to attend to important personal matters, reach out to Home Care Assistance, a leading provider of live-in and respite care. Philadelphia seniors can maintain their independence while living at home with the help of our reliable respite caregivers. 
6. Knowledge Is Important
Grandparents should show their grandkids that learning is fun. If grandparents have a special area of interest like bird watching or botany, they should get their grandkids involved. Sharing favorite hobbies shows kids that a lifelong thirst for knowledge is priceless.
7. Cleanliness Is Essential
When grandparents keep their homes neat and tidy, grandkids learn good cleaning habits.
8. Share a Meal
In today's world, it can be difficult to find time to eat as a family. When grandparents are spending time with their grandkids, they can show them sitting down at the dinner table to eat a home-cooked meal can be more fun than eating dinner in front of the TV. With time, grandkids may come to enjoy family dinners.
9. Be Polite
Not all kids remember to say "please" and "thank you." Grandparents should model polite behavior by using good manners around their grandkids, ranging from appropriate greetings to pleasant small talk to punctuality.
10. Listen Carefully
Many children have short attention spans, which can inhibit their ability to listen carefully. However, grandparents have plenty of time to listen to their grandkids talk about their favorite topics, whether it's a favorite movie or a beloved video game. By listening attentively and asking relevant questions, grandparents can instill the value of listening in their grandkids.
Sharing knowledge with younger adults is one of the many ways seniors can stimulate their minds. Professional caregivers offer companionship and regular mental stimulation that can help seniors slow cognitive decline and enjoy a high quality of life. If your senior loved one needs hourly or live-in care, Philadelphia Home Care Assistance can help. Our caregivers can assist with exercise and mobility, prepare nutritious meals, provide timely medication reminders, and help with a wide array of other important daily tasks. To learn about our high-quality in-home care services, call one of our friendly Care Managers at (215) 645-4663 today.